2009 News
Boucher Power finds itself in the later rounds at Lebanon Valley
July 2009
The NHRA Northeast Division completed its fourth race in the LODRS at Lebanon Valley Dragway over the Fourth of July weekend. On Sunday, Debby DiGenova made it to the Top Dragster final round to lose a tough bout when she broke out by ten thousandths of a second. Debby put in a great effort all weekend and Boucher's would like to congratulate her as well as her husband Val. In Super Gas, Mike Sawyer made it to the semifinals which ended is SG round win streak at 20. Also in SG, Chuck Rothermel reached the quarterfinals driving his Oldsmobile which was formerly driven by Warren Johnson in Pro Stock. Both Tom Boucher and son TJ Boucher drove their way to solid quarterfinal finishes in Super Stock. Tom also was near the top of the Qualifying sheet as he was fifth with a -1.109 second under pass in his GT/CA 1997 Pontiac Firehawk. Other notable qualifying efforts include Vic Santos with his GT/HA Firebird that qualified ninth in Super Stock as well as Warren Heaps who qualified seventh in Top Dragster with an ET of 6.825 seconds.

---
Mike Sawyer does it again: Claims 2009 Jegs Allstars Crown!
June 2009
Mike Sawyer has been on a tear as of late driving his 2004 Cavalier Roadster powered by a Bouchers built 565 in Super Gas. After recently winning the LODRS event at Maple Grove Raceway, Sawyer traveled out to Joliet, Illinois to compete in the Jegs Allstars for the second consecutive year. He defended his 2008 Allstars title in grand fashion by capturing the 2009 Allstars title. The Allstars title was not enough for Mike as he completed the sweep in Chicago by winning the National Event the following day. That tremendous performance has given Mike Sawyer a remarkable 16 consecutive round wins in Super Gas. Once again the road to victory lane meant crossing paths with his father, Ray Sawyer in the quarterfinals. That's twice in the last two races that they have met in the fifth round of competition. Congratulations to the whole Sawyer family and such a great accomplishment.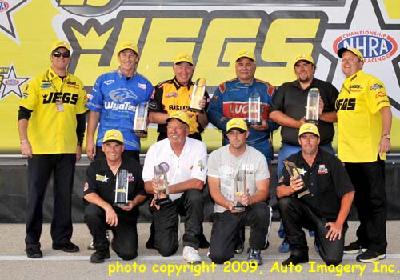 ---
Customers Enjoy Recent Success at New England Dragway
June 2009
New England Dragway had a full weekend of events on June 6th and 7th. They hosted two ALLSTAR races, two Top Dragster races, and two Hot Rod races. Over the course of the weekend, Boucher power found its way to the top of the qualified fields as well as to the late rounds. The weekend was highlighted by Chris Butcher who made his way to the victory lane winning his first Hot Rod race of the season. Congratulations to Chris Butcher, his father Rod, as well as the rest of his family. In the Top Dragster class, Deb DiGenova turned in a great effort with a runner up finish on Saturday. Other notables in the Top Dragster class were Warren Heaps who qualified towards the top of the pack with his 565 on nitrous as well as Val DiGenova who broke into the six second zone with his all motor 615. In the ALLSTAR Stock/Super Stock category, Steve Broadbent had a strong semi-final finish driving his L/SA 305 Chevy Malibu Wagon. Arnie Martel Jr. also recorded a semi-final in the ALLSTARs with his 1998 LT-1 powered Firebird racing in C/SA. Congratulations to all the drivers with their recent success on the local circuit!

---
Sawyer claims victory while Casey sets National Record
May 2009
Maple Grove Raceway in Reading, PA hosted the second LODRS event for the Northeast Division over Memorial Day Weekend. The weekend was threatened by the chance of showers, but the rains never came and some of Boucher's customers took full advantage. At the end of racing on Sunday, Mike Sawyer found himself in yet another winner's circle after taking victory in the Super Gas class. Mike marched through the field with a tight string of double zero and teen lights. He even had to take out his father Ray Sawyer in the semifinals. What a great weekend for the Sawyer racing team! Dave Casey also had a great weekend driving his 86 Camaro in stock eliminator. On Friday, Casey set the national record in the G/S class in a time of 10.94 seconds at 120.61 mph. That effort qualified him third out of 116 cars entered. Not only did Casey have a fast car, he also did extremely well using the shoe polish as he recorded a semifinal finish before losing to the eventual event winner. Congratulations to the entire Casey family. Other notables with strong qualifying efforts were Vic Santos with is GT/HA 85 Firebird who qualified tenth out of 98 in Super Stock as well as Warren Heaps who was the number three qualifier in the Top Dragster Class.

---
Warren Heaps Claims Victory at Division One Opener
April 2009
The NHRA Northeast Division opened their season up with the National Open in Atco, NJ over the weekend of April 4th and 5th. It's the first chance for many of Boucher's customers to get out and start off the racing year. Warren Heaps took full advantage of the windy weekend as he claimed the top qualifying position and class victory in Top Dragster. Heaps consistently ran low 4.30's at over 160mph in the 1/8 mile event with his Boucher built 565 cubic inch Chevy on nitrous. Other notables using Boucher power include Mike Sawyer who qualified number one and reached the semi-finals in Super Gas as well as Vic Santos who had a solid quarter-final finish after qualifying number two in Super Stock. Lastly, congradulations to Tony Fillipone for setting the SS/H record at 9.74 seconds with his 327 powered 1966 Chevy II.

---
Boucher Claims 3rd Division 1 Wrench of the Year
Jan 2009
At the recent NHRA Division 1 awards banquet in Pennsylvania, Tom Boucher was awarded Wrench of the Year. This is the third time Tom has been the recipient of this award with the previous accolades coming in 1994 and 2004. Boucher's provides the power for numerous stock, super stock, super gas, super comp, super street, and top dragster participants in the northeast. With improved technology and the addition of an engine dynamometer to his facilities, Tom plans to continue his dedication to building horsepower for each racer's individual needs and goals. Tom would like to thank his wife Mary and his employees Glenn Begley and Ron Boucher for all their hard work as well as all of his loyal customers for their continued support.

---
Mike Sawyer Claims 2008 Super Gas Title
Jan 2009
Boucher's Automotive would like to congratulate Mike Sawyer who was recently crowned the 2008 NHRA Division 1 Super Gas Champion at the annual awards banquet. Mike had a very successful season including a divisional win in Englishtown, NJ as well as the coveted JEG's Allstars championship in Chicago. This title now accompanies his Super Street championship he received in 2002 as well as his father Ray's Championships in 2005. Congratulations and good luck in 2009!